About Burning Ground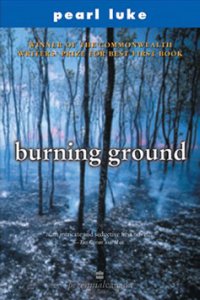 Burning Ground is my first novel. A finalist for the Chapters/Robertson Davies First Novel Award and winner of the 2001 Commonwealth Prize for Best First Novel (Canada and Caribbean region). 
According to the back of the book, it established me as a "fresh, original voice and a writer to be watched." Fantastic, as long as I'm not watched too closely! 
Burning Ground is the story of Percy Turner, a fire watcher ensconced in the cocoon of her tower, scanning the horizon for "smokes."
Completely alone, and wrapping herself in a fire-proof blanket of routine, Percy tries to insulate herself from the much more dangerous fires that burn within.

It's the intrusion of the past that haunts her, as she struggles to escape disturbing family secrets, and the loss of Marlea, her best friend and sometime lover.
As she reaches out to a new friendship, Percy faces a searing battle of the elements -- both emotional and physical -- that will redefine her whole life, her loves and losses. Cinematic in its style, erotic in tone, Burning Ground boldly explores desire, sexual identity and emotional risk, rising to a powerful ending, not easily forgotten.

Praise for Burning Ground
Luke displays a rare mastery in her first novel. Her prose is simple but eloquent, her characters well-sketched, and her ideas powerfully expressed.  Commonwealth Prize Jury
This debut skilfully layers its many conflicts into a haunting and memorable whole.  Publishers Weekly
The touching honesty with which Luke reveals Percy's anguish and self-discovery will make readers eager confidantes.  Time Out New York
Her experience has fuelled an intricate and seductive first novel, a subtly wrought narrative arc spanning 20 years, offering resonant characters, fascinating fire lore and scenes of family life that will raise primal emotions, the book gathers irresistibly to its striking climax.  The Globe and Mail
The characters, especially Percy and Marlea but secondary ones as well, are clearly drawn and memorable. Finally the novel is lyrical, sensual and erotic, written with a confidence often lacking in first books.  Toronto Star
A compelling tale, a masterful job of capturing awakening female sexuality.  Ottawa Citizen
---
Read an EXCERPT from Burning Ground