Who by Fire by Fred Stenson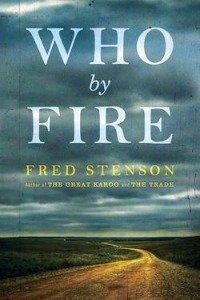 Reviewed by Pearl Luke
Who by Fire is a story with weight and heat, an absorbing and finely nuanced novel from an author unmistakably in his writing prime. It drills straight to the heart, as much about family as about corporate indifference or greed. 
The title culls an apt phrase from the Jewish prayer of Rosh Hashanah and the novel suggests that however hard hit we may be by cold circumstance, choice also plays a role in sealing our fate.  
Who by fire, who by water ...
Who will be tranquil and who shall be harassed
Who shall be at ease and who shall be afflicted
Communities have an easier time now protecting themselves from the interests of oil and gas companies than they used to. Evidence has accumulated. Precedents have been set. Residents who band together may prevent dangerous projects. 
Stenson's story is set in an earlier Alberta, in the 1960s, before farmers and the public knew much about poisonous sour gas. The story focuses on two generations of Ryder men, Tom and Bill, opening when then young Billy wakes and follows his father outside to gawk in terrified wonder at the monster stack spewing fire and stench into the night air.  
Thus begins the family's burgeoning troubles, caused partly because Tom and wife Ella have opted to remain on the family farm rather than sell to Aladdin Oil, a difficult choice made with scant information. Upon completion of the sour gas plant adjacent to the Ryder's land, Billy becomes sick, animals die, fences snap, and frustration mounts.  
Tom had a demanding but satisfying life as a farmer; the gas plant steals this peaceful existence. His family's suffering is somehow his fault, he believes, and unable to affect change, he wants compensation. But how can he prove his claims and fight a corporation so large and powerful, especially when Ella wants no part of the battle? 
Ella makes her own choice, one that decides Bill's fate. Teenage Billy doesn't want to work on the farm. Given the chance, he leaps at an opportunity to work for the oil company. He then grows into a good and compassionate man, middle-aged and intelligent when the story really takes hold; but the residual stink of childhood leaves him powerless over important aspects of his life. 
[Who by Fire  is a story with weight and heat

…

]
Throughout this novel, passions simmer, and interactions are as volatile as the gas that permeates everything.
Both within the community and within the corporation, brave, fair individuals face difficult choices. Some work toward change and aim to do right even as others obfuscate and steam forward at any cost. Others only want out the gate when their workday ends. Gains are hard won, politics prevail, and the personal cost to many is great. 
Who will be tranquil and who shall be harassed. Who shall be at ease and who shall be afflicted.  
Masterfully crafted and superbly written, Stenson unerringly shows who shall be brought low, and who shall be raised high. And the machines remain. 
Fred Stenson is the author of 17 previous books, most recently Lightning, The Trade, and The Great Karoo. 
Read more about
Who by Fire
on Fred Stenson's
WEBSITE
---