Evolution of a Pantry
by Lorrie Miller
(Vancouver, BC, Canada)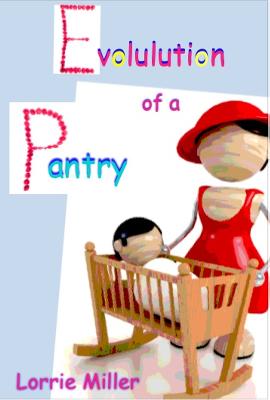 It started as a nursery painted an any-baby yellow, festooned with a happy-fish mobile over a crib that met all current safety standards.

'It'll be perfect,' she said.

'Right,' he said.

She had prepared this room, next to theirs in their two bedroom bungalow, the month following her first doctor's visit. She was finally pregnant. They were having a baby.

The month after her miscarriage—the month of her last doctor's appointment—she moved a cot into the nursery.

'For afternoon naps,' she said. 'Maybe I'll pick up on baby vibes and get pregnant again.'

'Sure,' he said.

But in the end, she slept there whenever he wasn't home, and all the baby vibes she felt hadn't resulted in anything more than dreams.

When he left—for good, so he said—she returned to what had been their room and left the nursery alone. It was a good two weeks before she began to stock it with the last seven years of marriage. First the wedding gown, shoes and veil in its blue tissue tucked in a casket-like windowed box. Then the albums, the monogrammed towels, a ceramic lamp in the shape of a Persian cat his mother had made, and letters from anyone who had addressed her as Mrs. Anyone. She was not Mrs. Anyone.

The marriage, the cot, the nursery stayed much that way until spring of sometime later. There was a sale on toilet paper, an unbelievably good deal. How could anyone pass it up? So, she didn't, and besides they would never go stale dated. She slid two cases under the cot, two on top, and two under the crib. She couldn't bear to put the remaining boxes in the crib. She had to erect shelves. It was the only answer.

She saw no point in building a shelf for just two boxes, so she built an entire unit, the kind with adjustable shelving. She placed the toilet paper on the lowest shelf. The remaining vacant five shelves beaconed from above, until the tomato soup arrived. Can upon can, she stacked them like large red batteries until the second lowest shelf was full.

Two flats of pink salmon wrapped with plastic to keep the short tins on their cardboard trays filled half of the next shelf. Almost as good as tuna, she thought. She liked tuna fish sandwiches, especially in the summer with chopped fresh chives from her garden, blended with light mayonnaise. Miracle Whip would do well enough. And so, blue lidded jars of white whip completed the salmon shelf.

At about this point a pile of coupons sprouted on the next shelf. These coupons led her to further purchases for stocking her pantry. Before she had filled the uppermost level, she erected another unit, a twin to the first, along the wall next to the window with its spring-chick yellow shears.

As sales came and went at her favourite market, the twin shelf too became well stocked with imperishables including: six boxes of long-stick easy-light safety matches, a carton of twelve O.B. brand tampons – multi-pack boxes, three cases of tetra packed Sunripe pure apple juice. Light-bulbs: twenty-four compact fluorescent, six appliance, four exterior flood, and three strands of Christmas L.E.D multi-colour—totalling 72 feet of holiday cheer. She was hopeful. And a barely-post-dated box of 11 Trojans. One case of pancake mix in 375 ml boxes. She could make pancakes from scratch, but she had calculated the amount of flour and baking powder and soda required for all the pancakes claimed by the instructions, and this case was a better deal than plain flour—incredible.

In addition to being a repository for shopping deals and life failures, this room became the place for odds and ends, the place to which she could organize the otherwise un-organizable: the single sock box, the twist-tie collection she never thought she would have, the spare power-bar for when the one that protected her computer finally gave it up, and used but carefully folded gift-wrap.

There was also half of a shelf dedicated to others, to visitor's detritus: her friend's umbrella, a black one not so different from her own, but with one bent rib, a book she'd finished and needed to return to her neighbour, a single glove—a sexy scented man's glove from a dinner date that had extended into the delight of morning, and one casserole dish left after her book-club's potluck which she had hosted with great success.

Four weeks and then five passed since she had gone into her pantry for any reason at all. She hadn't been feeling well. Tired, loss of appetite. Six weeks passed. Still somewhat ill, she was hopeful it would soon pass.

After a seven week hiatus, she swung the pantry door wide. Sun streamed through the spring-chick yellow shears and caught a beam of dust over the crib amid the overgrown shelves. She had just returned from her doctor. She was going to be just fine, the doctor had told her.

'Oh, my,' she'd said.