Every Thursday
by Michelle Satchell
(Philadelphia, PA )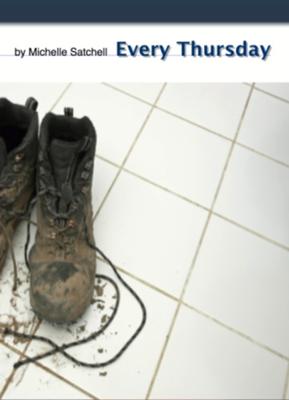 It wasn't that long ago that she had cleaned the grout on the kitchen floor, but already it looked dirtier than ever. She wracked her brain in an effort to remember why she had fought so hard for white tiles. Something about making the kitchen seem brighter, cleaner. But white tiles in a kitchen, clean? Every day she had to sop up a spill, sweep up cracker crumbs or wipe away a dirty footprint.

She had loved them when they first went down, on the bias. All the home improvement shows said that laying tiles on a bias makes a room feel larger, just what her kitchen needed, and the new tiles did make the space feel roomier. But the constant cleaning irked her so much that she rarely entered the room except to cook or to grab a quick snack. As the brightest room, with large picture windows allowing light into the dark home, she would have liked to sit at her mahogany table, which she had salvaged from the side of the road. She had taken it home, sanded and refinished it, and now it sat unused all day.

Today the grout between the tiles demanded attention. At least Carl would be happy. He often commented on the floor. He'd stomp into the kitchen with his wet boots still on, wet boots that had tramped through the muddy back yard and in through the back door, onto the white tiles. "Donna, there's shit all over the floor again," he'd yell. Then he'd grab his beer from the refrigerator and stomp out again. Or he'd say, "I told you a white floor was more trouble than it's worth. I've been looking at that gravy stain all week. I know you see it, the whole damn floor is white." He had wanted more sensible, sand colored tiles. "It'll hide the dirt," he had said.

Maybe sand colored tiles would have made her life easier, wouldn't have screamed that something had soiled them, that over there in that corner was a drip of honey that had missed the teacup.

She turned on the faucet and waited for the water to heat. In November it always took a while for the water to run hot. She grabbed the blue pail from beneath the sink and poured in too much bleach. She loved the smell of bleach, the way it made everything smell clean even if it wasn't. Bleach had the power to make anything white, even if she didn't want that thing white. She waited until steam rose from the sink and then filled the pail with scorching water.

On her knees on the cold, white tiles, her tears mixed with the bleach and the hot water. However hard she scrubbed that grout and those white tiles, they would still be dirty. They could never be clean as long as dirty shoes walked over them every day with a total disregard for cleanliness. This presented an uphill battle she wasn't prepared to climb, this white floor. This thorn in her side, this constant reminder of her own filth.

She had only done it once, she told herself after it happened. With the plumber, there almost every day for a month to replace pipes, install a garbage disposal, and move the sink beneath the window. An easy, small renovation, except that with a hundred-year-old house, renovations were never easy.

It had started with small talk. He had a daughter in state college. Funny, their son attended the state college as well. His wife had bad hips from her days of running track in college. She could barely stand now, so he helped her do everything. He got her dressed, bathed her, even helped her use the restroom. He talked of how it drained him to go home in the evenings, though he still loved her.

She talked about Carl. About how she thought he'd had an affair years ago, but she could never prove it. How around that time he'd started sleeping in the guest bedroom and had never moved back to their bed. They talked about the renovation too. About how the garbage disposal worked, how she could even put chicken bones down there, and then he gave her his personal phone number to call if anything ever got stuck in that garbage disposal.

And one summer day, something did get stuck. She didn't remember what, something Carl had thrown into the sink without thinking. The next day she called the plumber and he arrived within the hour.

"Here's your problem." He pulled out a plastic bag and held it up like a trophy, like he'd caught a prize-winning fish.

She clapped her hands and laughed with him. "Thank you." She reached out and touched his arm, unaware of what that touch would lead to.

Her mind hovered outside her body those five minutes they spent entwined on the white tiles, her thoughts not on the attention she received, for the first time in over a year, but rather on Carl. What if he came home for lunch like he did some days?

Later, Carl did come home, to traipse in dirty boots on the white tiles, over her indiscretions.

"The plumber was here," he announced.

Her heart beat so fast in her chest, her blood ran cold.

He flipped the garbage disposal switch on and off. "That man does great work."

He didn't know. And he would never know. But she swore those white tiles wanted to tell her secret, the way they screamed with stains and spills. She thrust the scrub brush deep into the pail until water sloshed over the sides, and scrubbed, as she did every Thursday.


*This is Michelle Satchell's first published short story.