Creative writing Contest
2012 Hazel Hilles Memorial Short Fiction Prize
---
---
THE 2012 CREATIVE WRITING CONTEST HAS NOW CLOSED. Please see the winning stories below:
---
---
$500 1st Prize Winner: Lee Kvern for "In Search of Lucinda"

$100 2nd Prize Winner: Evan Guilford-Blake for "Some Kind of Love"
$100 3rd Prize Winner: Carolyn Pledge Amaral for "The Root of the Matter" 
I was with my former partner, Robert Hilles, for 18 years. During that time, he called his mother every Sunday and spoke to her on the telephone. I can count on one hand the number of times he missed making that call.

In the early years of our relationship, Hazel Hilles was in her sixties. She had already lost Robert's father, and she lived in an independent living complex in Winnipeg, Canada. On our visits, her eyes sparkled and the smile seldom left her face. She saved chairs for us at her table in the residents' dining hall and pulled employees and other residents forward to meet Robert. My son, she'd say. He writes books.
Never was a mother more loving or supportive. She instilled in Robert a passion for poetry, and a desire to write. Without her influence, he says, he may never have become an author.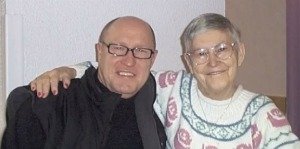 On January 20th, 2012, Hazel Hilles passed away to the great sadness of her surviving children and their families.
Robert and I sponsored this creative writing  contest in her memory. We enjoyed reading your submissions. 

More Contests