Bitter Lake by Marika Deliyannides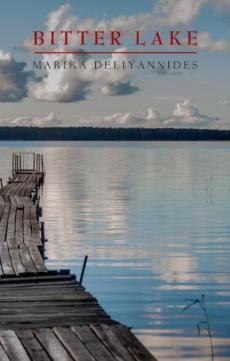 Reviewed by Pearl Luke
Bitter Lake, like Atonement by Ian McEwan, is a novel about the mistakes of youth and how the psychological clanging of unacknowledged guilt reverberates forward to create loneliness for the individual and divisiveness within a family. 

As the novel opens, Zoe, in her mid-thirties, newly and ambivalently pregnant, travels to Concord, the small rural town of her childhood and adolescence. She intends to help her aging parents pack up and rid themselves of "things they've worked a lifetime to possess," as they prepare to move into an "adult villa." As a professional organizer Zoe is accustomed to cleaning up messes. "The things people hang onto, I'll never understand," she thinks. After all, she has managed to neatly arrange her life, with all the untidiness boxed up and out of sight. Until she arrives in Concord. 

Over the course of Zoe's week in her childhood home, she faces a mother with whom she invariably feels at odds, an antagonistic sister, doubts about her pregnancy, lingering desire for an old boyfriend, and unresolved feelings about belonging in general. As her visit progresses, readers learn that a single incident resides at the heart of these disparate struggles.

Throughout the novel, Deliyannides writes about family with such authority that anyone not raised amidst a Rockwell tableau will be roused to uncomfortable familiarity as Zoe deals with "the fog of my sister's sulkiness," and with "nostalgic moments that open me up like a wound." Her lighter observations include "throw cushions strategically placed to hide nail polish stains" and "…the embroidered deer-head coasters that sit neatly stacked atop the coffee table..."

[Bitter Lake is

 a novel about the mistakes of youth

…

]
Such small details of socioeconomic status and taste are well balanced with impressive thematic insight as Zoe learns to ask, "How many times have I yanked on the sticky front door of my youth so that every other door since then has been pulled with more force than necessary?" 

While Bitter Lake may be classified as a "quiet story," one that depends on meticulous characterization rather than on pronounced scene goals and action, Deliyannides knows how to build tension, and from page nine forward, when we first encounter a "black lump" up ahead on the shoulder, that tension steadily builds. The mystery of the black lump is resolved on page 11, followed by a heart-quickening surprise on page 12, but the sense of impending danger is set. Something will throw this character off course and into oncoming traffic. 

This is a satisfying novel at every level, its complexity handled with skill. For me, it represents the kind of story I like best—a fast and thought-provoking read.

Read an excerpt from
Bitter Lake
---